Chemical Free Fire Ant Control
The FireAntEater™

AntCrusher H-1000
The Chemical Free, Completely Safe, Fire Ant Crusher
The AntCrusher H-1000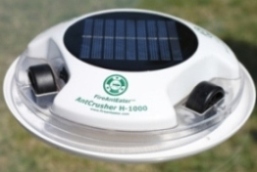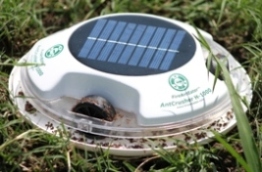 Out of the box                                  Doing Its Thing
It's Green →  ENVIRONMENTALLY SAFE: No chemicals, liquids or baits and only the fire ants are affected.

It's Safe →  COMPLETELY SAFE for people, plants and pets: No chemicals, wires, high voltages or sharp edges.

It Works  →  PROVEN by years of testing, it crushes so many fire ants, the colony is unable to sustain itself.

It Lasts →  IT WILL LAST FOR YEARS making it the most cost-effective product you can buy to control fire ants.
How It Works
The patented FireAntEater™ Ant Crusher H-1000 is a simple and amazing fire ant killer product. The vibrations of the unit's rollers rolling over the base plate agitate the ants into a continuous attack on the unit. Once on the base plate, the rollers roll over and crush them. A solar cell powers the unit and auto re-charges the two AA re- chargeable batteries (included) for extended operation in reduced sunlight conditions.
Why It Works
Fire ants are extremely aggressive about protecting the "colony". Any disturbance to the colony mound (where the larvae are deposited for warmth) is treated as a "threat" to the colony and the fire ants attack. In response to the AntCrusher's threat (i.e. the vibrations), fire ants come from all over the colony to attack until so many of them have been crushed, the colony can not sustain itself. For an average fire ant colony, this takes less than 30 minutes.

AntCrusher H-1000
Demo  Video