The FireAntEater™AntCrusher H-1000
MADE in the USA
The AntCrusher H-1000 is a solar-powered, electro-mechanical, fire ant killer product with two AA auto-rechargeable (by the solar cell) batteries (included), for operation in reduced or no sunlight conditions. The AntCrusher H-1000 is GREEN, SAFE, FAST, EASY TO USE, WEATHERPROOF and MADE IN THE USA. It WORKS and it LASTS. Click on links for these AntCrusher Attributes for more information. It is THE Green Fire Ant Killer and it's AMAZING..
Links to this Page
Invented, Developed
Patented & MADE
in the USA
-----
Special
Early prototype
of AntCrusher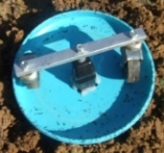 circa 2004
Invented in the USA - The AntCrusher was invented by Ken McDonald in the Gainesville, TX area, early in the new millenium. Having had no success with chemicals to exterminate or control fire ants, he wanted to develop a green (chemical free), safe, fire ant killer that worked. He discovered that the fire ant's most agressive behaviour (protecting the colony) could be used against them. His invention (nicknamed the 3 As - Agitate, At- tack, and Annihilate) resulted.. The AntCrusher agitates (by the vibrations of its' rollers rolling over the base); the fire ants attack it en masse (to protect the colony); the unit annihilates them (kills them by crushing).
Developed in the USA - Over the next several years, Mr. McDonald worked on (in the Gainesville, TX area), the optimal product design for AntCrusher. Shown to the right is an early working prototype. He used a frisbee, a battery powered motor, a cross bar connected to the motor, and 2 castors at either end of the crossbar. If you look closely at the photo, you will see that it is exterminating fire ants. [Note: Every prototype of the AntCrusher worked and proved the concept of the 3 As. This is why we can say that AntCrusher works and is proven by years of testing and development.
Patented in the USA - US Patent 7,765,734 was obtained for the AntCrusher in 2010. It is marked on the underside of the clear plastic roller disc plate on each AntCrusher.
MADE in the USA - The AntCrusher H-1000 is made for FIREANTEATER LLC by QFC Plastics Inc. in Arlington, TX.