The FireAntEater™ AntCrusher H-1000
See It Work
Demo Video
AntCrusher H-1000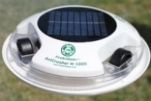 Out of the Box
Links to this Page
See It Work
The AntCrusher H-1000 is a solar-powered, electro-mechanical, fire ant killer product with two AA auto-rechargeable (by the solar cell) batteries (included), for operation in reduced or no sunlight conditions. 
The AntCrusher H-1000 is GREEN, SAFE, FAST, EASY TO USE, WEATHERPROOF and MADE IN THE USA. It WORKS and it LASTS. Click on links for these AntCrusher Attributes for more information.
It's THE Green Fire Ant Killer and AMAZING..