AntCrusher H-1000 Product
SPECIFICATIONS AND CONSTRUCTION
The AntCrusher H-1000 is a solar-powered, electro-mechanical, fire ant killer that is Green, Safe, Fast, Weatherproof, Warranted, Made in the USA & Lasts. It has two AA rechargeable batteries (included), auto-recharged by the solar cell, for operation in reduced or no sunlight conditions. Read more on how and why it works so well.
The FireAntEater™ AntCrusher H-1000
PRODUCT SPECIFICATIONS
Dimensions: Diameter - 9.13inches (231.8mm); Height – 2.25 inches (57.1mm)
Weight: 1.57 lbs. (765 grams): Motor: 700 gms @ 2V; Speed: 16-30 RPM
Power Source: The unit's primary power source is 4.2" (107mm) diameter,  4.5V, 180 ma solar cell. For operation in reduced or no sunlight conditions, 2 AA re-chargeable batteries are included.
Auto-Recharging: The batteries are recharged by the solar cell (wne in sunlight) irrespective of the switch position (on or off). A strong lamp can be used for re-charging in the "off" positon, but will take longer.
Noise: The unit makes some noise in operation so that it can be heard as well as seen.
Housing: The Housing is designed to protect the workings from insects, moisture and debris and should never be opened.
Set-up: Remove the battery shipping insulator(s). We recommend charging the batteries for a few hours before use, by placing the unit in sunlight with the switch off. To get to the battery compartment, separate the Housing from the Base Plate as shown.
Cleaning: As needed; use a rag or paper towel to clean the rollers, base and solar cell. For protection from fire ant bites, the unit should not be handled when there is (live) fire activiyt on or in it and protective clothing for the feet and hands worn.
Storage: For extended periods of non-use, we recommend cleaning the unit, removing the batteries from the battery compartment and storage out of the sun.
Warranty: 

one year warranty covering defective parts (except batteries) and workmanship.
The FireAntEater™ AntCrusher H-1000
PRODUCT CONSTRUCTION

AntCrusher H-1000 - side view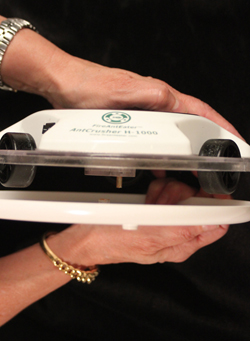 Separating Housing from Base Plate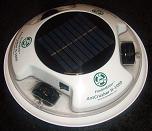 AntCrusher H-1000 - top view

Housing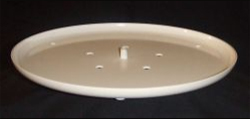 Base Plate